Free Internet TV FAQs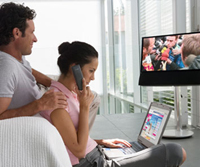 ◆
What is the Freeview TV & Freesat TV?
◆
What is Internet TV & IPTV?
◆
What do I need to do for watching free Internet TV?
◆
How many types of Free Internet TV in UK?
◆
Which country is consumes Internet TV the most in the world?
◆
Why does UK have the Highest Internet TV Viewing Rate in The World?
◆
Do I need a TV License to Watch Online TV?
◆
Is Internet TV really the Future for TV ?
◆
What is the Freeview TV & Freesat TV?
See'Digital FAQs'for details
◆
What is Internet TV and IPTV?
Internet TV refers to digital TV programs delivered by internet. Internet TV can be watched in any internet abled devices such as PC, laptop, tablet, game console, smart mobile phone, as well as TV set connected to internet. Internet TV is an inevitable product for the internet era. Compared with traditional TV, internet TV has the advantages of breaking the limitation of time and space, letting TV viewers watch TV more comfortably and conveniently, choose TV contents more personally, of course, with lower cost or even free of charge. The main feature of internet TV is on its catch up function. You can watch your favourite programs of previous week whenever and wherever you are convenient. You can view one program, or even the entire series of your favourite one.  
IPTV (Internet Protocol television) is a system through which television services are delivered using the Internet protocol suite over a packet-switched network such as the Internet, instead of being delivered through traditional terrestrial, satellite signal, and cable television formats.
IPTV services may be classified into three main groups:
live television, with or without interactivity related to the current TV show;
time-shifted television: catch-up TV (replays a TV show that was broadcast hours or days ago), start-over TV (replays the current TV show from its beginning);
video on demand (VOD): browse a catalog of videos, not related to TV programming
IPTV is distinguished from Internet television by its on-going standardization process (e.g., European Telecommunications Standards Institute) and preferential deployment scenarios in subscriber-based telecommunications networks with high-speed access channels into end-user premises via set-top boxes or other customer-premises equipment.
◆
What do I need to do for watching free Internet TV?
There two necessary factors needed for internet TV. Firstly, the key is to have broadband service. Please note the broadband speed must exceed 2MB so as to make sure you can have smooth and clear TV image. Also, if you watch internet TV quite lot, it is better to choose unlimited broadband to avoid extra usage charges. Second, you should have internet abled digital devices such as PC, laptop, tablet, game console, smart mobile phone etc. the level of memory, hard drive and operating system of your device also have impacts on the viewing quality. The more and more clear fact is that having superfast broadband and efficient smart device can bring you everything.
◆
How many types of free internet TV in UK?
It is very easy to watch TV online! Superfast internet is an information motor way, which not only develops new supplying mode for traditional TV providers, but also offers opportunities for broadband companies to become main TV providers, and also makes broadcasting firms more and more active. There are following three types of internet TV:
a, Internet TV service offered by traditional digital TV suppliers such as SKY and Virgin Media. You can have free internet TV if you are their TV program subscriber.
b. Internet TV bundle program, YOUVIEW, provided by two telecom giants BT and TalkTalk.
c. BBC iPlayer, ITV Player, Channel 4's 4oD offered by broadcasting companies such as BBC, ITV etc. You just need to access their website and make a registration, and then you can watch or download their TV programs at any time. BBC iPlayer is an outstanding representative of internet TV, with plenty and good quality of programs; available both live broadcasting or catch up.
d. YOUTUBE is another type of video service with strong interactive functions, having colourful, on time updated programs. This program is popular in all over the world, especially in UK. PPS,PPLIVE Chinese internet TV are favourite programs in UK for Chinese community.
◆
Do I need a TV License to Watch Online TV?
You don't need a TV licence to watch online TV, as long as you don't watch or record shows at the same as they're being broadcast on TV.
This means that if you only use the catch-up options on these services - and don't watch things "live" or "virtually live" - you could save yourself almost £160 a year by ditching your TV and going online only.
However, you should take into account that it's a criminal offence to watch "live" television without a TV licence or to posses or control a device which you know or reasonably believe will be used to watch "live" TV without a licence. You could be prosecuted and fined up to £1,000 - plus legal costs - for these offences.
◆
Which country consumes internet TV the most in the world ?
A report at the end of the year 2012 by Ofcom, the UK communications regulator, found that 23% of UK broadband users watch TV on the internet every week, which is much higher than that of other countries, including America with the highest TV possession rate in world.
The report also suggests that American is on the second position, with 17%, and Spanish on the third position, with 16%. 
The report also revealed that the average British viewer watches 242 minutes of television every day, comp The report also revealed that the average British viewer watches 242 minutes of television every day, which is on the third position, only exceeded  by Italy, with 253 minutes, and the US, with 293 minutes.
◆
Why Does UK have the highest  Internet TV viewing rate in The World?
The consultants from Flying Dragon Telecom think that the following four factors are the main reasons for this:
1. Traditional factor. Addiction on TV is always a national tradition of UK. A responsible leader of UK Ofcom once said:" Brits love watching TV the most in the world.". This addiction has become a fertile soil for the development of British broadcasting and film industry.
2. Quick Rolling out of superfast broadband and fast marketing development of internet TV devices in the past few years will definitely create strong internet TV services and a powerful consumer group. In the past few years, on the one hand ,home broadband, mobile broadband and public Wi-Fi internet services have widely spread and their speed has been increased greatly from 2MB to up to 160MB; on the other hand, smart TV, smart phone and tablet have turned up as the achievement of digital revolution and have become customers' must have products. According to a new statistics by Ofcom,  owning rate of smart TV in UK householders is 15%, and that of HD ready TV is 41%, which is slightly lower then that in the US. the fast development of superfast broadband and smart devices together have created flying wings for internet TV of no time and space limitation.
◆
Is Internet TV really the Future for TV ?
The revolutionary development of UK superfast broadband at the beginning of 21st century has brought UK into the era of internet TV. all signs have shown that in the time of no living without internet, internet TV is becoming and will become the main TV watching mode as it can best match the life style and life pace of modern people. Where ever you go, internet TV is with you.
Internet TV has freed us from TV program schedule forever. The time is over for us to stick on and wait for our favourite program turning up.  Facing this reality and future, broadband providers, broadcasting and TV program developers and web designers have all begun to take action.
We can, under our requirement, switch our watching among PC, smart TV, laptop, smart phone and game console etc. we can watch colourful TV program free of charge,  and we can watch TV program in multi room thanks to the help of digitalized tools.
Have you tried this kind of service? Are you intending to try this service? Ok, start from surfing on this website.